Discover more from Sports Stories
Exploring sports and history at the intersection of everything. Written by Eric Nusbaum and illustrated by Adam Villacin. Tuesdays.
Over 2,000 subscribers
Armstrong's Secret Nine
In the summer of 1931, Louis Armstrong returned to his hometown of New Orleans and started a baseball team.
The first Sports Stories we ever published, way back in September of 2019 (also possibly in another space-time dimension?) was about the brilliant life and tragic death of table tennis player Rong Guotuan. This was supposed to be the second. But for some reason it never happened. We wrote about one thing, then another, then another, and the whole time Louis Amrstrong was right there waiting for us. 
Our story takes place in the summer of 1931, when Louis Armstrong returned to New Orleans for the first time in nearly a decade. This was the city where he was born, the city that sent him off to reform school, the city where he was briefly adopted by a family of Lithuanian Jewish immigrants who lent him the cash to buy his first cornet from a pawnshop, the city whose music culture and riverboat scene had entranced him and welcomed him and molded him. 
Now he was 30 years old. He was a star. He had already done more than a kid from a neighborhood called The Battlefield -- or from anywhere really -- might expect to do in their whole life. He had been in Chicago mostly. But also on steamboats up and down the Mississippi and in Harlem and Los Angeles. As a kid in the Battlefield, Louis Armstrong had nothing. But by the summer of 1931, wandering his old childhood streets, he had everything.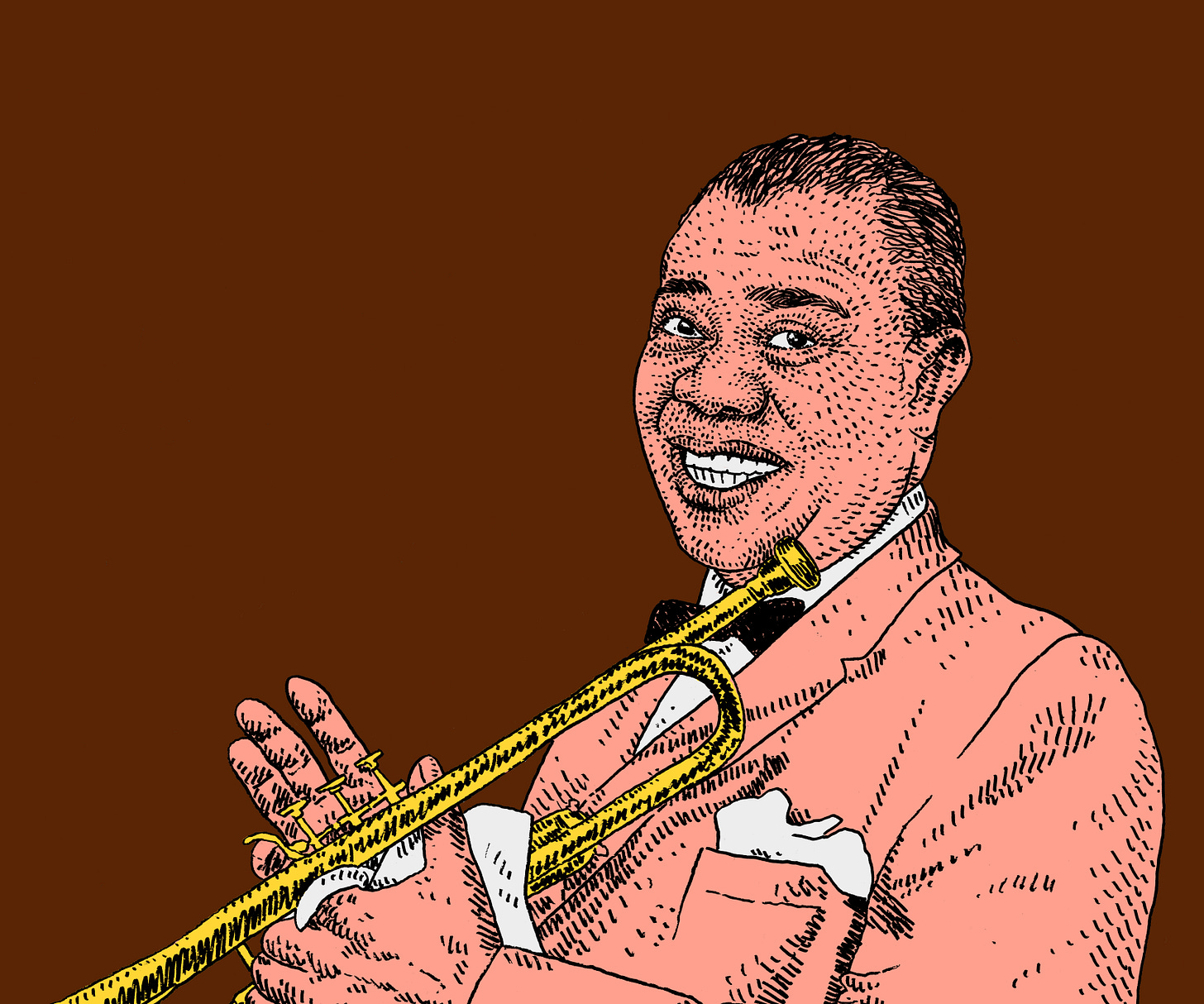 There was only one thing to do for a person like Louis, and that was to entertain. He put on shows. He caught up with old friends. He was a conquering hero, already a jazz legend, an American legend. And what better way to celebrate than with that other great American invention? Baseball.
It should be noted here that Louis Armstrong absolutely adored baseball. This didn't become part of his public persona until later in life, but he was an obsessive fan. And there was a lot of overlap between the barnstorming culture of the Negro Leagues and the barnstorming culture of the jazz world. Jazz musicians loved to play sandlot ball, and ballplayers loved to hang around jazz musicians. 
So that summer in New Orleans, Louis started a baseball team. He bought them new uniforms -- bright and clean -- with the name Armstrong written across the chest. They got all new balls, bats, gloves -- the works. The team became known as Armstrong's Secret Nine. And for a few glorious months, they were all over New Orleans. The peak of their existence came with a pair of doubleheaders at Heinemann Park on August 16 and 17th -- to celebrate "Louis Armstrong Day." (Pretty sure the day was declared by Armstrong himself.) Heinemann was the city's premiere stadium -- home of the white minor league team the New Orleans Pelicans, and occasional host to the negro league team the New Orleans Black Pelicans, who were the Secret Nine's opponents.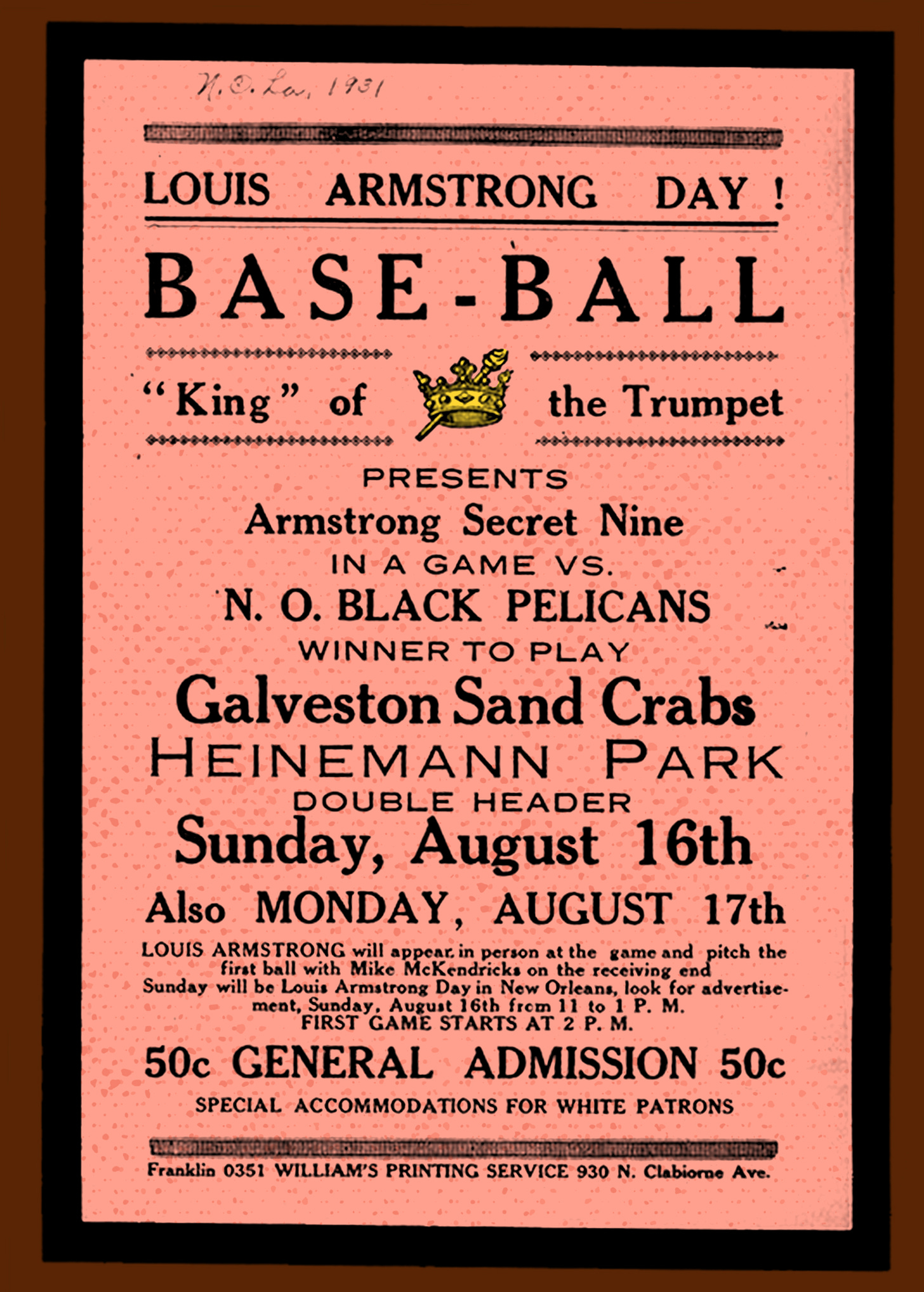 By all accounts, the Black Pelicans ran the Secret Nine out of the park. Decades later, Armstrong would write about it in one of his notebooks.
"Of course they lost, but I still say they wouldn't have been beaten so badly if they hadn't been too proudly to slide into the plate. Just because they had on their first baseball suits, and brand new ones at that, but it was all in fun, and a good time was had by all I know. I had myself a ball." 
Contemporaneous newspaper reporting seems to have said the same thing. The Secret Nine looked good. But they weren't much of a ballclub.
But the thing about Armstrong's Secret Nine is that there really is something secretive about them. For years, historians have tried to figure out who the players on the team actually were. A single photo of the group has been passed around over years (a few copies sit in the archives at the Louis Armstrong House Museum in Queens). But other than Armstrong himself, nobody could any of the faces. The surviving copies of the photo feature an inscription from a New Orleans drummer and Amrstrong pal named Little Joe Lindsay. Little Joe was around Louis and the team that summer -- promoting games, throwing out first pitches, entertaining fans -- but not as part of the team.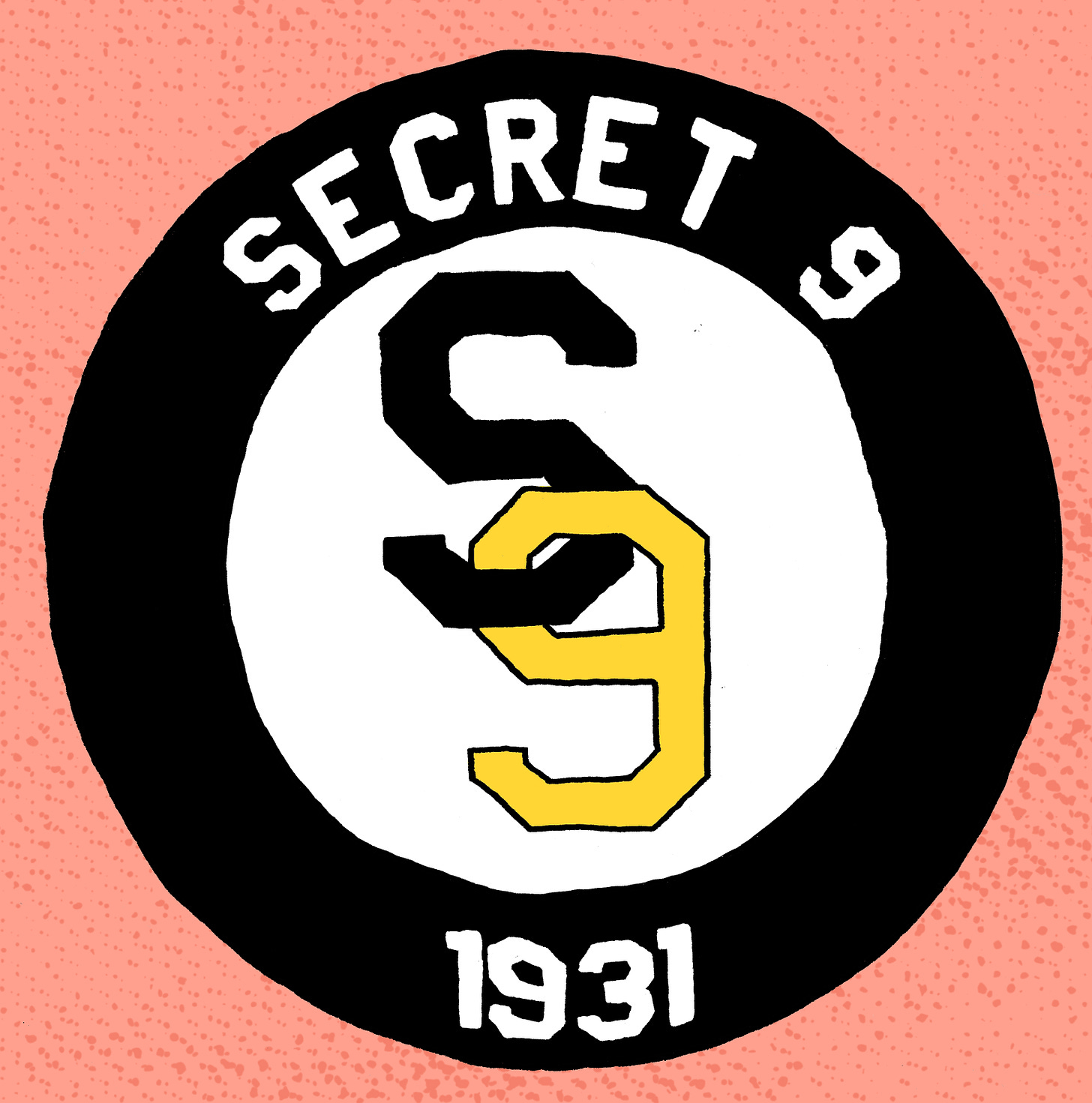 When I first started collecting research for this post way back in September, the members of the team still remained largely unidentified. But -- and this is one of the benefits of procrastination -- that has since changed! Researcher Ryan Whirty has dug up the identity of one of the Secret Nine: Edward "Kid" Brown. Whirty's path to this discovery is a lovely story in itself. And Brown was a fascinating guy in his own right, who made more of a name for himself as a pro boxer than as a ballplayer. 
Soon after the game at Heinemann Park, Louis Armstrong left town once again. In November, he recorded "Lazy River" in Chicago. In December, he was handing out coal outside of a theater in a poor Baltimore neighborhood. The Secret Nine played one more season and then faded from memory. 
In 1943, Louis Armstrong settled down in Corona, Queens -- not far from the future site of Shea Stadium. For the rest of his life he was a baseball fan. Once on tour in South America, he had his manager send away for one of Yankee catcher Yogi Berra's actual catcher's masks, then he started wearing it around to protect him from fawning crowds:
Later in life, Armstrong continued his fandom. 
"One of his biggest disappointments is that the Mets never asked him to play the National Anthem before a game," Ricky Riccardi the archivist at the Louis Armstrong House Museum told the Queens Chronicle newspaper. "He lived only a few blocks from the stadium. I guess he didn't want to ask them."
Related Reading
The aforementioned historian Ryan Whirty is the expert on Armstrong's Secret Nine. You should check out his blog, The Negro Leagues Up Close, for tons of great history on the Negro Leagues. New Orleans has a long, rich black baseball culture that isn't usually a part of the classic Negro Leagues narrative. Here's a brief rundown by (who else?) Ryan Whirty. And here's Whirty yet again on the history of Negro Leagues baseball in Louisiana. 
Whirty was also sponsored by the International House Hotel in his efforts to dig up the history of the Secret Nine. The hotel has done a few other projects to honor Armstrong; this time, they actually recreated the Secret Nine uniforms -- you can buy one right here. 
For some reason, this story from the New Orleans Times-Picayune on the efforts of Whirty and the hotel is presented in a totally unreadable slideshow format, but if you're interested in braving it, here it is. 
And for general Louis Armstrong reading/browsing, I can't recommend the Louis Armstrong House Museum highly enough. They have digitized almost their entire archival collection (including audio recordings), and it's super easy to browse and enjoy. Armstrong was an inveterate diary writer and scrapbooker. (He often cut out clippings of his favorite baseball players.) He also liked to tape record his everyday life. 
Baseball & Jazz
They aren't just two things Ken Burns made documentaries about. I found this essay by Shakeia Taylor for Baseball Prospectus on the intersection between the two in the context of the Negro Leagues to be illuminating and beautifully written. 
I also really enjoyed this Smithsonian Magazine post on Duke Ellington and baseball -- it also includes some beautiful footage of the Duke himself playing some pickup baseball outside of one his tour buses. 
---
This has been Sports Stories by Eric Nusbaum (words) and Adam Villacin (art). If you have any questions, comments, or concerns, please reply to this email or contact enusbaum@gmail.com. We'd love to hear from you. 

Sports Stories is 100 percent free. If you enjoyed this week's newsletter, and want to show your appreciation, the best way to do that would be to sign up, share it on social media, or forward it to someone you think might enjoy it too.